Safety Program
MISSION OF THE CIRCUS ARTS SAFETY PROGRAM
"To establish specific guidelines that will help promote, encourage and foster better safety and risk management practices as related to circus arts by creating a system that recognizes circus spaces that demonstrate a continued commitment to better safety practices as based on ACE's guidelines."
Vision of the Circus Arts Safety Program
This program was created with the ideal of having all circus training spaces in the United States be able to demonstrate to the public that they are committed to continually improving their approach to safety, regardless of the population they serve. The program is on-going; there is no "final certification" since a commitment to safe practices is an ongoing process requiring constant vigilance.
Methodology and Approach: Creating Guidelines for Everyone
There is no such thing as "zero-risk" or "100% safety."  There is no "one-size-fits-all" approach to making a  circus arts program as safe as it can be, and we realize that every circus training space is unique and faces unique challenges with regards to risk management. A guiding philosophy behind the program is the idea that there is no such thing as "best practice," only "better practice."
We have broken down our guidelines into three categories: "Facilities & Operations", "Policies & Practices" and "Curriculum & Staff".  We have worked hard to ensure that the guidelines are specific enough to be effective while remaining pliable enough to accommodate any effective solution.
The picture of how all three categories work together is more important than any single piece.  The perfect equipment (the physical facility) is only effective if inspected regularly (safety practices) by someone who knows what to look for (qualified staff).
We believe that the application process itself should be an opportunity for self-examination, sharing, learning, and improvement. The program is not a "pass/fail" examination, but a process of dialogue, investigation and feedback. Towards that end, the process of being recognized by ACE involves many milestones for discussion and feedback in both directions. The program does not seek to standardize specific practices; it seeks to serve as a feedback system through which circus arts programs can evaluate and improve their safety practices and develop credible systems of self-reliance.
To recap…
The ACE Circus Arts Safety Program is a recognition program for circus arts training spaces or programs.  Once you have gone through the process, you will be able to say you are an "ACE Recognized Program", and you will receive a graphic to display publicly.  Recognition is based on verified compliance with ACE's guidelines through a process of self-examination, application, communication, improvement and evaluation.  The guidelines are intended for everyone, and we hope that whether or not you pursue recognition you use the guidelines as a safety "measuring stick" and commit to constantly evaluating and improving your safety practices.
TYPES OF PROGRAMS WE PROVIDE GUIDELINES FOR AND RECOGNIZE
Teacher Training Programs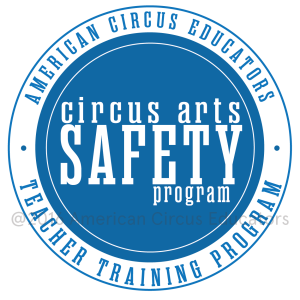 Programs do not need to offer a formal certificate to be recognized as a teacher training program; any program that offers teacher training to in-house students or staff counts as a teacher training program.  Teacher Training Programs must meet ACE's facility guidelines for any facility in which their teacher training is conducted.  This means that if you offer your teacher training out of someone else's space, or visit another space to train teachers, that space must meet ACE's guidelines as well.  Training teachers is an important job, and if you are committed to producing teachers that understand the value of safety, the quality of the space you teach out of is important.
Currently ACE is only accepting aerial teacher training programs for recognition, but other disciplines will  be included in the future.
Process and Fees
Get started on your application
Download the ACE Teacher Training Program Guidelines
Circus Arts Programs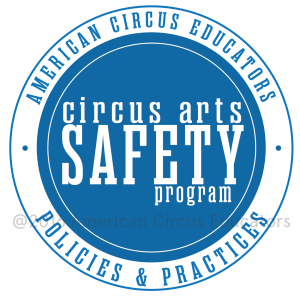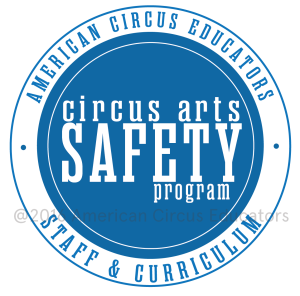 These recognitions are for programs that do not train their own teachers, and may or may not have their own facility (ie-if you rent a gymnastics space, gym or rec room). There are three recognitions available to Circus Arts Programs: Facilities & Operations, Policies & Practices and Curriculum & Staff. Any program can apply for any combination of all three, or just one at a time, allowing programs of all sizes and budgets to participate at some level.
Process and Fees
Get Started
Download the Circus Arts Program Guidelines
FAQ's
Who developed this program?
The program was conceived and developed by a committee consisting of Adam Woolley, Jonathan Deull, Beverly Sobelman and Elsie Smith starting in 2012. Since that time the committee has done the work of reaching out to experts in all relevant fields to receive feedback on the program, as well as researching the field of certification and recognition.  The Teacher Training Program recognition went through a "Beta" phase with volunteer studios in 2013, and with the creation of ACE the program as a whole. While the committee does consist of some recognized experts in relevant fields, we do not claim any special status; this project has been conducted entirely as a volunteer effort by qualified people because we believed that the American circus sector needed a viable third-party safety recognition program.  As the program evolves we are sure some of the guidelines will change with the times, and as more and more studios go through the process we hope the program will become better and stronger.
Who does the actual processing of the applications and examines my program to see if it is compliant?
ACE has created a Safety Consultant group for this purpose; all Safety Consultants apply and are approved by the ACE Safety Committee.  The application process ensures that the Safety Consultants are dedicated to the community, extremely skilled at communication, and understand the program's mission, in addition to being expert in their field.  Because our industry does not rest on certifications or formal trainings, reputation, community involvement, track record, professional career and  years of experience are some of the factors the committee considers when reviewing a safety consultant's application.
How do I know which program I should apply for?
For most programs, knowing whether or not you should apply for the Teacher Training Program recognition or the Circus Arts Facility will be easy: if you train your own teachers, you should seek a Teacher Training recognition and if you do not then you should seek a Circus  Arts Facility recognition.
If you are recognized as a Teacher Training Program, you will have demonstrated to the community that you are committed to producing teachers with training that has been examined and recognized by an outside organization.
If your program is small and uses teachers that come from other programs (ie-previously established professionals or teachers who have completed a Teacher Training program rather than home-grown students) then the Circus Arts Facility recognition may make more sense.  There is no reason to seek the Teacher Training recognition if you don't train teachers from scratch.
It is our belief that any program that is training teachers at any level should be doing so with great awareness; if the greater percentage of the staff is "home-grown," then ACE will most likely recommend seeking the Teacher Training Program recognition.  Home-grown teachers from informal teacher training programs sometimes have great training and knowledge, but when they move and start their own studio may not  realize how supported they were by policies that they may or may not have even been aware of.  For this reason, any space that trains it's own teachers (and plans to continue this practice) must seek recognition as a Teacher Training Program, regardless of whether they offer a formal certification.
Regardless of which category you fit into, ACE's intention is that no educator or space is excluded from applying for this program. It is our philosophy to work with any studio that wants to work with us and be recognized…there is no favoritism based on longevity, reputation or skill level in a program. ACE cannot promise that every studio will be recognized; to include everyone regardless of practice or willingness/ability to implement changes would defeat the purpose of the program. If we conclude that you meet our guidelines, then we are happy to recognize you no matter the mission, size or skill level of your program.