EdCon 2022
October 7-9th at Sky Candy in Austin, TX
The American Circus Educators Conference 2022 is the place to connect, share, and learn with other US circus coaches, instructors, teaching artists, studio owners and school directors! If you teach circus, run a circus program, research circus, teach circus educators, or work with any type of circus education, you will find connections and inspiration.
We are very excited for in-person physical workshops and face-to-face connections after such a long hiatus! (There is also a separate, limited virtual option for those that can't attend live.)
REGISTRATION
Registration includes all sessions (workshops, panels, discussions, etc), social events, and lunch Friday, Saturday & Sunday!
ACE MEMBERSHIP IS REQUIRED TO ATTEND. This event is by and for our ACE community!
To make our event as accessible as possible to our members of different incomes and backgrounds, we have created a sliding scale. We encourage our attendees to self-select the appropriate level:
Discounted, ($300/$250 Earlybird) for those who otherwise would not be able to attend. (May not be fully employed or may qualify for assistance, or this price may reflect an acknowledgement of historical/current societal marginalization.)
Full value, ($375/$325 Earlybird) for those who can currently meet all their needs.
Supporter, ($450/$400 Earlybird) for those who have enough to contribute towards making it possible for others to attend at a necessarily discounted cost.
Please note:
The Earlybird Discount is available before August 1st at 11.59pm Eastern Time.
Virtual Only ticket: $50. Virtual ticket will include recordings of some, limited sessions.
Accepted presenters attend for $100 and workstudy volunteers attend for free.
Please note that for EdCon 2018, our last in-person before the pandemic, the price of a ticket was $435/$335 Earlybird and did not include any meals. Presenters got a $100 discount.
Attendees must be 18+ or have an adult attendee chaperone.
Cancellations due to illness or injury will be converted to Virtual Only and refunded the difference. Cancellations due to other reasons will be converted to Virtual Only with a refund of the difference up until September 1st.
SCHEDULE & SESSION SIGN-UP
A jam-packed 3-day schedule filled with workshops, panels, roundtables, social events, and more!
Workshop sign-up opens August 1st at 12pm Eastern Time (11am Central, 10am Mountain, 9am Pacific). You must be a paid registrant in order to sign up for workshops!
SNEAK PEEK SCHEDULE (SUBJECT TO CHANGE):
View the 2022 American Circus Educators Conference schedule & directory.
ACCOMODATIONS
BOOK EARLY! EdCon is happening the same weekend as ACL (Austin City Limits – a huge music festival) and accommodations will both get booked up fast *and* be pricy if you wait.
Tips:
1. Airbnbs will often be the best deals and the closest options to stay, even with all of the extra fees.
2. Neighborhoods to look for on Airbnb if you're looking for places that are within a 20 minute walk (listed in order from closest to farthest): MLK-183 (west of 183, south of MLK), East Austin, Govalle, Johnson Terrace
3. Neighborhoods to consider if you're willing to make a short drive (listed in order from closest to farthest): MLK-183 (on or east of 183, north of MLK), Holly, Rosewood, Chestnut, Central East Austin, Cesar Chavez, Pecan Springs Springdale, MLK, Mueller, Cherrywood, Windsor Park, University Hills
4. Places to avoid (due to huge influx of traffic from ACL, unless you are excited about being in the fray): Downtown, ZIlker, Bouldin Creek
5. There is no reserved group hotel booking for this EdCon. Most hotel rooms close to the Sky Candy studio (10-15 minute drive away) will be around $250 – $350/night for a double bed room. If you're willing to stay somewhere about a 20-30 minute drive away, there are options that go down to $150/night for a double bed room.
6. If you want to do a homestay, keep us posted! If you already know someone locally, reach out to them directly. If you want us to connect you with members of our community, let us know! Email winnie@americancircuseducators.org.
COVID Policies
COVID transmission policies are subject to change based on current public health information and federal and local mandates. Masking (regardless of vaccination status) will be required if there is medium or high levels of community transmission locally at the time of the event. There may also additionally be rapid/at-home testing requirements. Those who have tested positive for or have symptoms of COVID-19 will not be able to attend the in-person event. Cancellations due to illness or injury will be converted to Virtual Only and refunded the difference.
Pre-EdCon Extras
October Traincation Workshops
This October, Sky Candy will be hosting workshops and private lessons with two amazing guest instructors: Jenn Bruyer (IG: @heelhang) and Jim Donak (https://divingbuddah.com/). There are sling, silks, trapeze, flexibility, and handstand workshops, catering to a wide range of levels and interests. These workshops are being offered in the days before EdCon and are expected to fill, so grab your spot!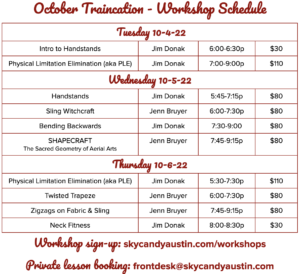 Bungee Teaching Training
Sky Candy is also holding Bungee Teaching Training October 4-6th, right before EdCon! Head to Austin a little early and learn the fundamentals of teaching bungee as an apparatus, and get coaching on how to apply them to your specific studio and student body! See more info about this teacher training here: https://www.skycandyaustin.com/bungee-teacher-training. Early bird pricing available until August 1st.
ACE Awards
The 2022 ACE Awards will be presented at the event! Read more about the Excellence in Education and Innovation in Education awards and nominate someone you know!
VOLUNTEER APPLICATION CLOSED
The volunteer application closed JULY 1st.
Our workstudy volunteer program supports the development of future circus educators by making the learning and networking opportunites of EdCon accessible, along with a behind-the-scenes view! Workstudy volunteers are primarily those transitioning from youth to professional (ages 18-26). Volunteers earn a complimentary pass in exchange for helping at the event. Accepted volunteers will receive a discount code via email. Do not register until you hear back from us.
PRESENTER APPLICATION CLOSED
Presenter application closed July 1st. Application status notification by July 15th, 2022 at the latest.