ACE membership keeps you connected, engaged, and in the know! ACE memberships are available for circus educators and organizations. Our most popular member benefits include content management system discounts for organizations, insurance connections, eligibility to attend national events, and discounts on regional events. Click the button below for more information and to join!




ACE Discussion Series 2022
The American Circus Educators Association is excited to present a bimonthly online discussion series for continuing education and professional development for circus educators. Each session is based on a particular topic and facilitated by a community expert in that topic!
• Attendance is FREE to current ACE/AYCO members.
• Non-members pay a small sliding-scale fee, $5-20.
• Space per session is limited.
Sessions are one hour long, every other month on the second Tuesday, at 12pm Eastern Time/11am Central Time/10am Mountain Time/9am Pacific Time. The sessions are not recorded, in order to create a space where attendees are comfortable participating fully in discussion – though some of the facilitator's introduction may be recorded and made available to registrants after the session. Check out the upcoming events below!
Tuesday March 8th, 2022: Legal Obligations & Preventative Practices – Abuse
All instructors, studio owners, and circus community leaders have a duty to prevent and respond to abuse. This session will summarize federal and state laws related to reporting, prevention, and response to abuse, and raise best practices to consider. Q&A and discussion opportunities will allow all attendees to get community and expert input on the most critical aspects of our jobs and identify the growth opportunities in your abuse prevention and risk management practices.
Tuesday May 10th, 2022: Supporting Students with Anxiety and Panic
This discussion will start with an expanded excerpt from the longer training "Unafraid – Mental Health Tools for Circus Communities". We will discuss elements of anxiety and panic as adaptive traits, and what happens when they become overwhelming or disordered in circus students. Participants will leave with concrete tools for supporting their students who experience anxiety and panic, as well as tools they can use to soothe and ground themselves as needed. 
Calling All Health and Wellness Experts!
The Health and Wellness Committee is looking for experienced volunteers to join their task forces. Joining a task force is a wonderful way for community members to get involved in creating safer and more welcoming environments in circus. Community members with expertise in health and wellness topics are encouraged to apply.
Led by a committee member or co-chair, each task force focuses on a variety of specialized health and wellness topics in the circus community. Topics range from sexual violence prevention/response and disordered eating, to concussion prevention/response and suicide prevention. Please note that time commitments for each task force may vary.
If you are interested in joining a Health and Wellness task force, please fill out the application here.

Wellness Resources
The AYCO/ACE Health and Wellness Committee recognizes that substance use in our community can be harmful and challenging. As educators, we can create a non-judgmental and safer environment by modeling and helping to create & implement organizational cultures, policies, and responses to support healthy behaviors. We can also learn signs of unhealthy substance use, and practice effective approaches: 

• Addiction and substance abuse can happen with both illicit and legal substances like alcohol, nicotine, and marijuana, and medications like opiates and steroids.
• Substance Abuse is a chronic brain disease. Excessive and chronic use cause physical and chemical changes in the brain.
• Signs of drug abuse include: rapid mood changes, having too much or too little energy, eating too much or too little, talking fast or nonsense.

We have compiled educational and crisis resources. You can find a complete list of resources on the ACE website.


ACE Safety Program
The mission of the ACE Safety program is to establish specific guidelines that will help promote, encourage and foster better safety and risk management practices as related to circus arts by creating a system that recognizes circus spaces that demonstrate a continued commitment to better safety practices as based on ACE's guidelines.

The ACE Safety Program is a low cost consultation process with an industry expert to help your program or school better manage the inherent risks associated with circus arts. Learn more here.

Safety Spotlight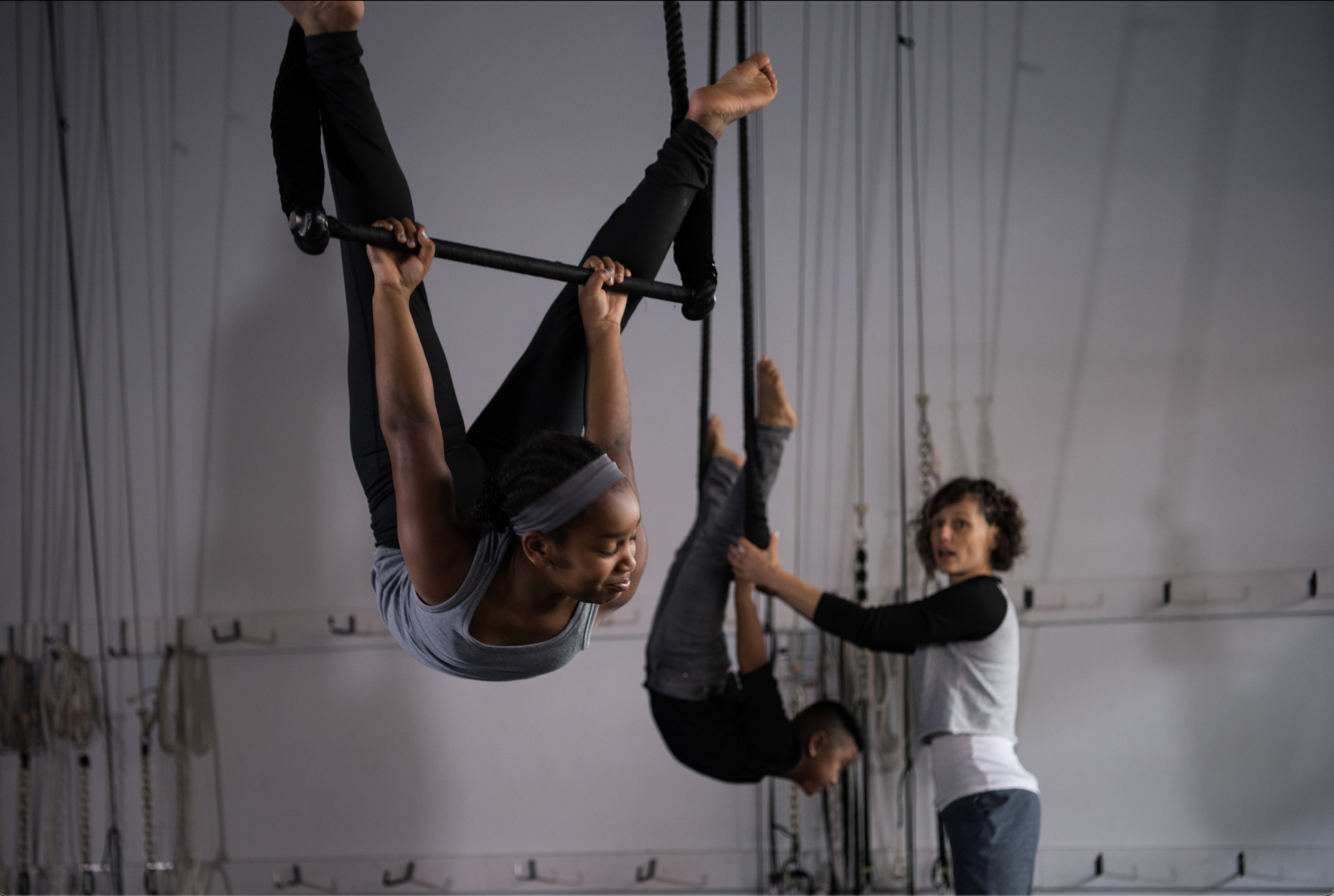 Safety Spotlight: The Circus Project is a non-profit circus school located in Portland, Oregon dedicated to transforming lives through the circus arts. They offer camps, classes, and workshops in a variety of disciplines for all ages and levels, as well as intensive circus training companies for youth and pre-professional adults. The Circus Project also maintains thriving community partnerships, a robust scholarship program, and strives to infuse all programming with a commitment to equity and access. The Circus Project is also dedicated to supporting artistic development through training memberships, performance opportunities and artist residencies.

"Our experience with the entire process of ACE Safety Program certification was truly valuable to our development as a growing circus academy. We at The Circus Project are honored to be recognized as an ACE approved facility." -Kari Hunter, The Circus Project.

New Circademic Research Survey Needs Volunteers
Are you an adult recreational aerial arts student?Your help is needed for an academic study to explore injury rates and types.

This is a volunteer study for a graduate student project consisting of an online survey taken once a month for four consecutive months that should take less than an hour of your time. All data is anonymous and this project has been approved by the Institutional Review Board of Concordia University St. Paul.

The goal of the study is to establish injury rates and generate data that could be used to improve access to aerial arts along with the potential to improve safety for recreational classes.

Open to persons who are 18 years old or above, taking aerial arts classes with an instructor, are not seeking to become a professional in the next year or have not been a professional for at least a year.

To help become a valuable part of this "circademic" study or for more information, please follow the QR code or link at: https://www.surveymonkey.com/r/IRAAconsent

2022 Circus International Film Festival Tickets On Sale Now!
Tickets are on sale now for the 2022 Circus International Film Festival, which runs online from Pie Day (March 13) to World Circus Day (April 16), at https://filmfreeway.com/CircusInternationalFilmFestival/tickets

Please contact circusinternationalfilmfest@gmail.com for sponsorship or volunteer opportunities, and follow @circusinternationalfilmfestival on FB and IG, or visit http://www.circusinternationalfilmfest.com for more information.

Cirques Experience's 2022 Wheel Weekend
The 2022 Cirques Experience is hosting the annual March Weekend. Held in the north side of Chicago, Wheel Weekend is a great opportunity to expand circus artists' skills and knowledge in the world of wheel.
There are several workshops including Cyr wheel, Gym Wheel, Judging, Coaching and More! Whether the focus is performance, competition, physical fitness, or merely FUN, all are welcome! Whether a beginner or a professional this is a great opportunity to meet new people and learn new skills.
When: March 18, 8:00AM – March 20, 5:00PM
Where: 5944 N. Magnolia Ave | Chicago, IL, 60660 | USA
More information can be found below as well as registration for Wheel Weekend.
https://www.usawheelgymnastics.com/wheel-weekends 
https://www.cirquesexperience.org/event-details/2022-chicago-march-wheel-weekend

Circus Smirkus Camp Registration is OPEN!
At Smirkus Camp, kids develop new ways to challenge themselves, learn skills like teamwork and problem solving, get terrific physical conditioning, and enjoy fun summer camp traditions like singalongs, costume themed dinners, kickball, and more! 
This summer, Circus Smirkus is offering the following sessions at Smirkus Camp, including placement-based camps that require a video submission, as marked with ★ below:
Smirkling Camp | 1 day | June 18 | Ages 5-11 Just Added
All Levels Circus Camp | 1 week | June 19-June 24 | Ages 8-16
All Levels Circus Camp | 2 weeks | June 26-July 8 | Ages 8-16
Intermediate Camp | 2 weeks | July 10-22 | Ages 12-18
★ Intermediate Skills Intensive | 3 weeks | July 24-August 12 | Ages 12-18
★ Advanced Ensemble | 3 weeks | July 24-August 12 | Ages 12-18
★ Advanced Individual Acts | 3 weeks | July 24-August 12 | Ages 12-18

Get more information and sign up at www.smirkus.org/camp-sessions

NECCA Presents: The Circus Spectacular
Tickets are on sale now for the Circus Spectacular, NECCA's dazzling fundraising show starring guest artists from circuses around the world! This is a unique opportunity to see some of today's most renowned high flying aerialists, acrobats, and jugglers in Brattleboro, VT on the Latchis Theater stage, and a live stream option if you prefer to watch from the comfort of your own home. Don't miss an evening of incredible, world class entertainment for the entire family!

WHEN: Sat, March 5 at 7:30 pm (in person & streamed live) and Sun, March 6 at 1:00 pm (in person only)

WHERE: Online and at The Latchis Theater 50 Main St. Brattleboro, VT 05301
COST: $15-50 (all sales benefit NECCA's scholarships and programming)
TICKETS: https://www.onthestage.tickets/show/new-england-center-for-circus-arts/circus-spectacular-60657/tickets
MORE INFO: https://necenterforcircusarts.org/about/circus-spectacular-2022
Share the Facebook event with your friends and schedule a watch party: https://fb.me/e/2WurrftxR

Volunteer for a FREE ticket: https://necca.ivolunteer.com/event_cs2022

NECCA Youth Circus CAMP
In our youth camps for ages 3-17, your child will receive top-notch instruction in a noncompetitive environment. They'll get a sense of pride and increased confidence as they learn communication skills, perseverance, and self-determination, as well as how to be a spectacular acrobat, aerialist, juggler, or clown.

We honor the traditions of the circus by including activities to develop creative and performance skills, share the history of circus while passing along fun circus traditions.

Students will work in groups by age and ability for the best learning experience. We work with the energy of our youngest students by including separate art activities and quiet time suited to their learning needs. Sign up for 1, 2, or 3+ days – each day will include a new and fun experience for each student.

WHEN: February 21 – 25, 2022 from 8:00 am – 12:00 pm
Full-Day Camp Schedule
* 8:00am–8:30am: Drop off at NECCA
* 8:30am–10:00am: Rotating activities including trapeze, fabric, lyra, juggling, mini-tramp, balancing, stilting, clowning, and acrobatics
* 10:00am–10:15am: snack
* 10:15am–12:00pm: Rotating activities including trapeze, fabric, lyra, juggling, mini trap, balancing, stilting, clowning & acrobatics
* 12:00pm: Pick up

WHERE: 10 Town Crier Dr Brattleboro VT 05301

COST: $50/day
REGISTER: https://necenterforcircusarts.asapconnected.com/#CourseGroupID=42318
MORE INFO & COVID POLICIES: https://necenterforcircusarts.org/youth-camps
Email: info@necenterforcircusarts.org   |  Call: 802-254-9780

2022 Social Circus Connection Calls!
New format, same great Social Circus Connection Call. 
In 2022, the ACE Social Circus Program is changing the registration structure for our Connection calls; participants will need to register for each individual call. Join us for our next call, Tuesday, April 12th 9am PST / 10am MST / 11am CST / 12pm EST.

Calls are *free* to ACE members | $0-10 for non-members

Game of the Month: Anything You Can Do, I Can Do Better – Conditioning!
Materials Needed: Just a partner! 
How to Play: In partners, person A chooses an exercise, like squats, and performs one squat. Then your partner has to do two squats. Back to person A for turn, do three squats. Continue alternating 10 turns. Next time, let person B choose an exercise, like pushups, and start the challenge.
Variations: Play each round until one person can't continue. Try in groups of three. Play with more people too, and have each person take turns doing the same amount of reps (everyone does one squat, everyone does two squats, etc.).
Frequent Flyers® Aerial Dance 2022-2023 Professional Training Program
Accepting applications through May 1st. Fully remote application process. Apply Here. 

Program dates: August 22, 2022 – May 26, 2023 in beautiful Boulder, CO. 
Our well-rounded curriculum prepares aerial dance artists for a wide variety of aerial career trajectories, expands creative potential, and provides tools to stay healthy and flying. Frequent Flyers is the first aerial dance school approved and regulated by the Colorado Department of Higher Education, Private Occupational School Board. Learn More About the Program.

Inquiries: Nancy Smith, Artistic Director: nesmith@frequentflyers.org

Aerial Instructor Enhancement Program – 6-week virtual course
Sundays March 6th-April 10th 2:00-4:00pm EST | $550
SOAR Aerial Dance's Aerial Instructor Enhancement Program is a 6-week virtual course geared towards instructors who want to further their aerial education, using various movement and technique concepts. SOAR's coaches lead the course using a holistic approach based off of how the body feels when in motion. This course is for instructors who want to learn how to anticipate their students' needs, incorporate movement, and teach beyond aerial skills and tricks. Instructors will delve deeply into what it means to be a movement coach while also facilitating their creative process. This course gives participants the confidence needed to teach their ideal class, with an emphasis on technique and body awareness. Participants will have the opportunity to work on a new concept each week including: body awareness, movement of the limbs, creative development, how to command the classroom, and more.
Enrollment closes March 4th. Sign up here. 

Aircat Aerial Arts Teacher Training – Foundations Course
April 1-3, & 22-24, 2022 in Boulder CO (10am – 5pm each day) (DATE CHANGE FROM FEB 2022)
Get full details here.

Cathy Gauch, director of Aircat Aerial Arts, has been teaching a Nationally Recognized Aerial Teacher Training course for 8 years. This program upholds industry safety standards, providing new instructors with the tools needed to coach with confidence, emphasizing student safety & success. It is designed to equip coaches with a framework with which to teach in addition to providing resources & guidance for continual professional development. 

Focus will be on the bigger picture of how to teach versus teaching a specific curriculum. Building from individuals' libraries of known skills, this program will encourage students to apply critical thought to the teaching process and provide a strong foundation for coaching recreational aerial arts.

Circus Arts Institute Trainings
Circus Arts Institute is thrilled to be continuing our training programs online!  Plus, we will be hosting our Advanced Aerial Teacher Training in-person!  Please visit our website to learn more about Circus Arts Institute's online training program and our current course offerings.
Registration is NOW OPEN for Circus Arts Institutes' Upcoming Aerial Teacher Trainings
Advanced: March 4-7, 2022  (Silks)**
Beginner: April 29-May 2, 2022 (Silks, Hammock)*
* This will be online. Please let us know if you are interested in Trapeze, Lyra or Spanish Web, we add each based on interest. 
** This will be live/in-person in Atlanta, GA.  Beginner & Intermediate Certifications from Circus Arts Institute are pre-requisites for this training
For details and to register, click here. Questions? Email info@circusartsinstitute.com

Paper Doll Militia Upcoming Remote Teacher Trainings
Paper Doll Militia's 50 hour Remote Teacher Training Course is a comprehensive and fully interactive training that you can do in your local studio or on your approved home rigging. This course includes independent study, group instruction & personalized feedback as well as lifetime access to over 200 recorded reference videos and other course materials. There are 3 weekly zoom classes delivered in multiple time zones over the course of the 4 week program. Please visit the WEBSITE for more information about the course and to register!
Upcoming Trainings:
Level 1 Silks, Rope, Trapeze or Lyra | 50 hours / 4 weeks
• Course dates: June 4th – July 2nd, 2022 (Registration opens April 4th, 2021)
Level 1 Rope Fast Track | 10 hours / 2 weeks
*This is an add-on module For those who have taken the Full Silks Course
• Course dates: March 24th – April 4th, 2022 (Registration is currently open)

Get NASM Certified with Cirque-It Fitness Academy
For a limited time! Save 10% on top of NASM advertised prices on NASM certification courses through the Cirque-It Fitness Academy!
Save NOW on education that increases your value as a fitness professional. Circus coaches, get your NASM-CPT (Certified Personal Trainer) to further your education. Already have your CPT? Add a CES certification and maximize your per session pricing, or become a Nutrition Coach and increase your revenue stream.
Use code ACE to get your 10% savings on the following courses linked below:
• NASM Certified Nutrition Coach
• NASM Certified Personal Trainer
• NASM Corrective Exercise Specialist
Any other NASM course—contact Cirque-It Fitness!
After your purchase, a member of the Cirque-It Fitness team will contact you to get you set up with your course hosted on the NASM website. This special incentive expires March 18, 2022 or while supplies last. Questions? Call/text Cirque-It Fitness at (833)2-Cirque or email train@cirqueitfitness.com
CSAW Microgrants for US Circus Artists of Color
CSAW – Connection Circus Students Around the World met their fundraising goal for the second year in a row and it means that they can provide another year of Microgrants! To be eligible to apply for a CSAW Microgrant for US Circus Artists of Color you must identify as a person of color who is a citizen, resident alien, or permanent resident of the United States looking to further their education in circus and/or fund their circus related projects and needs. All applicants must be 14 years or older to apply for and receive a Microgrant. Applications are open from the 1st-15th of every month. For more information click here.

In Good Wealth: Grants for Black-Owned Businesses
In Good Wealth nonprofit organization invests in Black-owned wellness and movement focused businesses to ignite generational wealth and equity in health. $1,500 grants are awarded on a rolling basis to early stage businesses. Circus is included as a wellness and movement field. To learn more and apply, click here.

Discounts for AYCO/ACE Members
Want to get discounts with these awesome Circus vendors? Discounts are just another awesome perk of being an ACE member.  Become a member today! 

ACE News Article Submission
Interested in including your news or events relevant to the national circus community in AYCO/ACE's newsletters? Send your submissions to communications@americanyouthcircus.org by the 2nd Friday of the month to be included in our monthly newsletter. Submissions should be no longer than 150 words, written in the third person, and include appropriate links and contact information if relevant. We cannot include PDFs or images, but we can link to them. Please also indicate if you would like your submission included in the AYCOgram (directed towards youth), ACE News (directed towards organizations and educators), or both.

Thank you to our Gold Members!
We Are The American Circus Educators Association!